STAKING is the process of "Freezing" a Crypto Asset into a Smart Contract so that it cannot be used or sold.

By doing this, the person holding the Staked asset will be able to allow the operators of the Stake (that is CFX Quantum in our case) to obtain a result on blockchain operations.


Therefore the person who is accepting (by his own will) to Stake a Crypto Asset will get rewarded by the Stake Operators.
In the case of ZEROONE, CFX has created a simple way to stake it and obtain as a reward a monthly Bonus of 1% of the staked ZEROONE Coins.

CFX Quantum will put 1% more Assets in the crypto holdings that backs the ZEROONE Token and so 1% more of Tokens will be minted every month.
The 1% of tokens will be given to the Stakers as a prize proportional to the staked amount.

The only limitations are by now:

- You can stake ZEROONE if you have at least 2000 CFXQ in your wallet

- The minimum amount to be staked is 1000 ZEROONE = 1000€

Example:

The User has 5000 ZEROONE and 2000 CFXQ.
He wants to get rewarded for 1000 ZEROONE.

He Stake 1000 ZEROONE and at and of each month he will receive a bonus of 1% More of ZEROONE Tokens, that is 10.

He can put into stake also the 10 (for compounding effect) or leave them in the wallet.

The "non staked" ZEROONE will not get a bonus.

When the user wants, using the "Redeem" function the Tokens will be unstaked and can be sold back to CFX Quantum at €1 per token.

HOW TO Stake ZEROONE:

1) Go to the ZEROONE tab in the Wallet menu

2) Check that you have in the wallet at least 2000 CFXQ tokens
3) Put the amount desired in the Box as in the example below.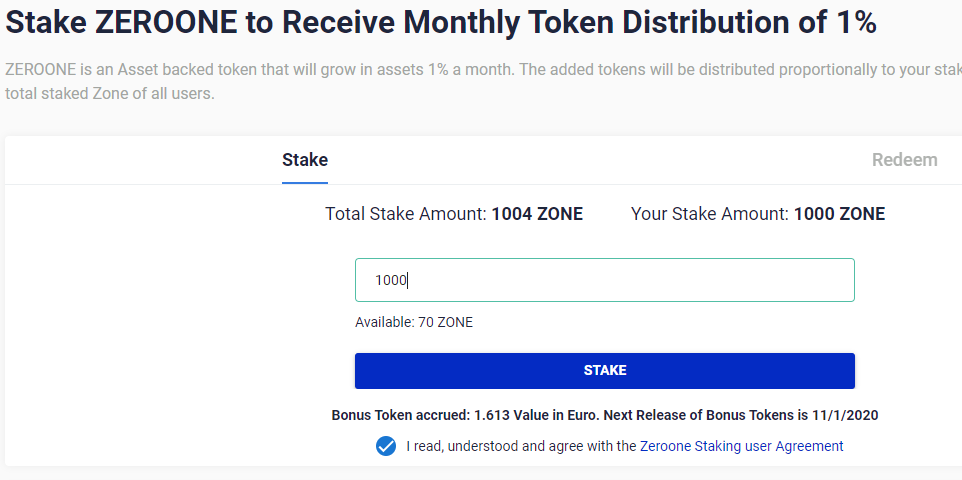 Here you can see:
- The Number of already staked ZEROONE (ZONE)
- The minimum Stake amount of 1000
- the number of available FREE ZEROOONE that can be staked below the box.

4) BY CLICKING "STAKE" BUTTON THE AMOUNT CHOSEN OF ZEROONE WILL BE STAKED

Below the stake button you will see the Bonus accrued and when will be the Next Release (English format mm/dd/yyyy).

THE RECORDS

Here you can see the staking made and the dividend distributed (empty since the staking has just been made).
UNSTAKING

The "Unstaking" is as easy as the Staking!
1) Click "REDEEM" at the right of the ZEROONE tab
2) Put the Amount to Redeem in the Box
3) Click REDEEM BUTTON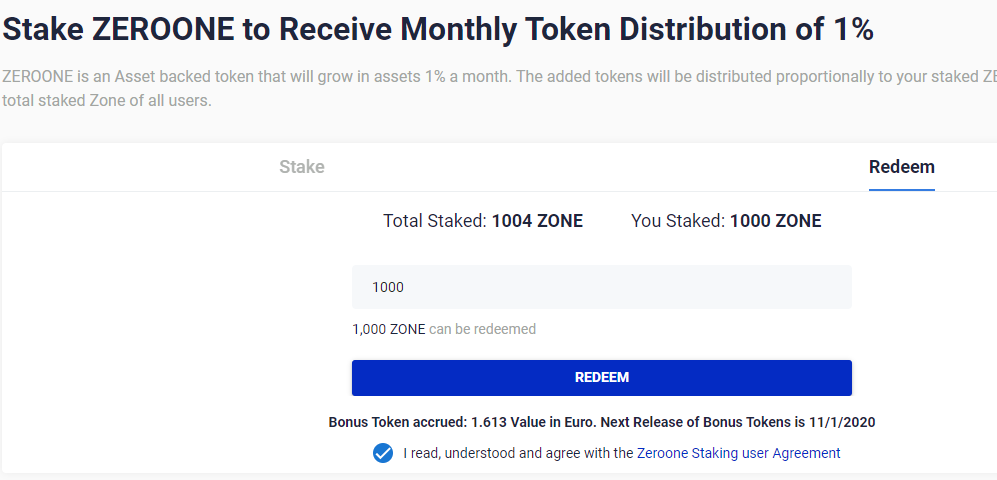 THE SPACE BELOW THE REDEEM BUTTON WILL SHOW YOUR STAKE AND REDEEM HYSTORY


END OF ARTICLE